Ready to Start Using BQool?
bQool provides a comprehensive suite of tools designed to optimize your product listings, enhance your sales performance, and increase your profitability.
BQool is a comprehensive software service provider that offers a suite of advanced solutions for Amazon sellers. We have created the most in-depth Bqool Review article that's available. We go into detail about every single feature.
Their products make selling on Amazon easier, more efficient, and more profitable for its users. It accomplishes this through the deployment of sophisticated tools that leverage artificial intelligence and machine learning.
BQool's software solutions are primarily grouped under two main products: Repricing Central and BigCentral.
Repricing Central is an AI-powered repricer designed to optimize product pricing strategies. It helps Amazon sellers win the Buy Box, adjust prices in real-time in response to competitor activity, and maximize sales and profits by considering factors such as stock level, sales velocity, and sell-through rate.
On the other hand, BigCentral is a comprehensive Amazon seller tool that offers a range of functions.
It helps sellers with tasks such as product reviews and feedback management, tracking feedback status, and turning negative feedback into positives, all of which can greatly improve a seller's rating on Amazon​
BigCentral also includes an extensive product review and ratings tracker that alerts sellers of any negative reviews and monitors any changes in reviews, allowing sellers to promptly respond and protect their brand reputation​.
Furthermore, BigCentral offers a component known as BigCRM, an Amazon Help Desk tool. BigCRM simplifies customer service by automating feedback and review request emails, allowing sellers to respond to customer questions faster, manage customers more efficiently, and protect their seller reputation with greater efficiency.
In summary, BQool's suite of tools, embodied in its two main products, Repricing Central and BigCentral, provide Amazon sellers with a comprehensive set of solutions that make selling on Amazon easier and more profitable. These tools, backed by AI and machine learning, offer robust features that cover pricing strategy, feedback management, product review tracking, and customer service.
Let's discuss the Repricing Central tool first.
Bqool Repricing central
The Repricing Central section of Bqool has been created to help sellers to dominate their competitors. How many times have you been selling an identical item to another seller, but they are dominating the buy box?
Bqool uses AI powered repricing rules, with the aim of giving you complete buy box ownership. Not only does it win the buy box, it works to increase the price of the product whilst you own the buy box price.
The result? More profits for you, more sales for you! You need Repricing central.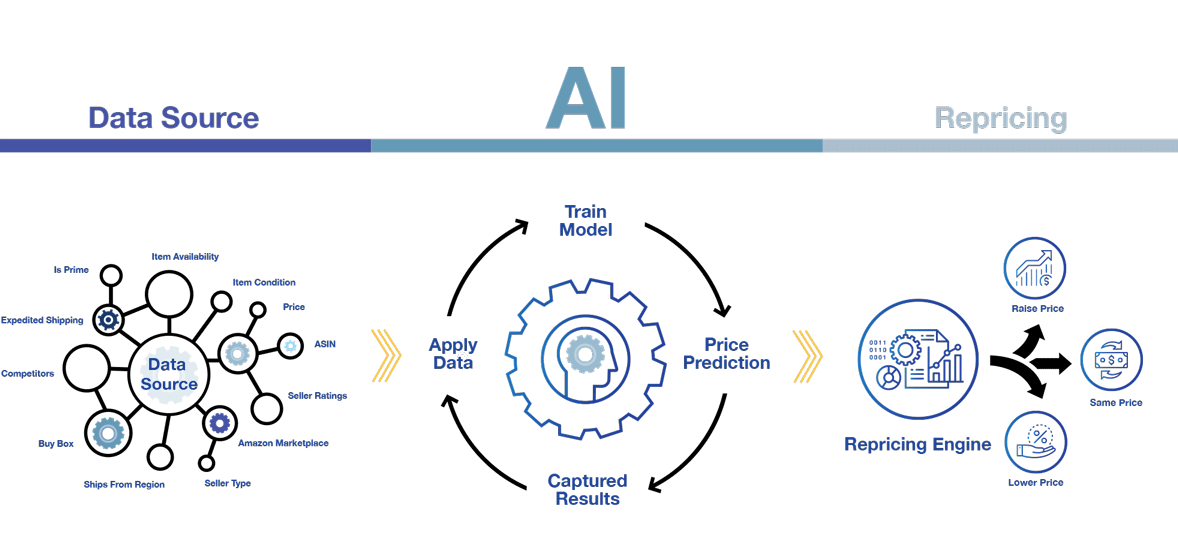 Bqool uses billions of Data Points, but they do not publicly share what these are, as a way to protect their Machine Learning AI.
Re-pricing Central has two key components:
AI-Powered Repricer
Rule Based Repricing Strategy
Conditional Repricer
AI-Powered Repricer
The AI powered repricing tool is central to what Bqool is all about. If you aren't aware of AI, this is how it works:
Data Collection: The repricer tool gathers information about the pricing of similar or identical items sold by other sellers on the platform. Factors such as shipping cost, seller ratings, stock levels, and other variables may also be taken into consideration.
Price Optimization Algorithms: Using AI and machine learning algorithms, the repricer analyzes this collected data to determine the optimal pricing for a given product. These algorithms take into account the seller's profit margins, competitiveness, and market trends.
Automatic Price Adjustment: Based on the results from the price optimization algorithms, the repricer tool automatically adjusts the prices of the seller's items. This is done to ensure competitiveness while maintaining or maximizing profitability.
Continuous Learning and Adjustment: As more data is collected and as market conditions change, the AI repricer continually learns and adapts. This means that it gets better at predicting optimal prices over time and can react to changes in the market quickly.
BQool's AI repricer has a reputation for being particularly good at winning the Amazon Buy Box, which is exactly what you need as an Amazon seller.
This is achieved by strategically adjusting prices to be more competitive while keeping them within a profitable range for the seller.
There are 5 Key strategies which you can deploy with AI:
AI Sales Maximiser – This is an aggressive repricer, built with maximum sales in mind. This comes at a cost, with profit taking a bit of a hit. This will aggressively reprice to ensure that you're the lowest priced listing, which will increase your sales. (Often buyers search for min price listings, and you'll have good chance of grabbing the buy box).
AI Sales Booster – This is a little less aggressive than the Sales Maximiser. With this one, it will dynamically reprice to generate sales.
AI Equalizer – This strategy takes a more balanced approach, repricing your items moderately. It's the perfect one if you're looking for a balance between sales velocity and profit margin.
AI Profit Booster – The profit booster does exactly what it says on the tin. Your sales will be a little bit slower, but your profits will be the focus here. It's the perfect strategy if there's a few sellers on the item, as you'll soon be the max price listing and have sold your item.
AI Profit Maximizer – This is an aggressive repricing rule, focused completely on profit.
Rule Based Repricing
If you don't want to use the AI options, you will also have access to rule based strategies. These can be deployed immediately, so you'll be able to flick the switch on your Amazon business in an instant.
It's built to obliterate your competition, and that's exactly what it does. We haven't seen this in other repricing tools, which is why we rate bqool repricing central so highly.
It monitors Amazon all day long, checking in with your competitors and ensuring they aren't deploying any new tactics or price changes. If your competitors move, or try to out-price you, it will edit your min and max prices to ensure you're being as competitive as possible.
Whilst this is quite comprehensive, it's incredibly easy to use. You can make your own rules up from hundreds of variables, but Bqool have also added 5 pre-made strategies to help you start out. These are:
Target the Lowest Price Rule – Increase the buy box percentage by remaining the lowest overall price with this repricing rule.
Target the Lowest FBA Price Rule – This will ensure you stay competitive and remain the best price as an FBA seller.
Undercut the Buy Box Price Rule – An Aggressive way to ensure you win the buy box, at a cost of your profit margin
Undercut the Buy Box Price (Oscillate) – To be used if the buy box is rotating heavily.
Match Buy Box Rules – This ensures you will be the same price as the current buy box, ensuring you remain an affordable price whilst having a chance of winning the buy box.
Conditional Repricer
The Conditional Repricer will manually reprice your items, based upon set conditions. Think of an 'If this, then that' type of scenario.
For Example, if there are no other sellers of a specific item, you could set this to increase your price by 25%. Whilst there are other sellers, your item would remain at a competitive price, but if they go out of stock… BOOM. Your item increases in price, to match the demand.
Or if you have items that are perishable, you can set your repricer to account for this and it will reduce the price of the item, until they sell out. We've had great results with this and items sell amazingly fast.
Easy to Setup
Regardless of the strategy you choose to deploy, you will find a hassle free deployment. You can register for the free trial and have deployed your first strategy within 5 minutes.
Price & Profit Calculator
Selling on Amazon isn't always easy, and it can be hard to work out your total profit. Bqool however, have created a Calculator which can work out exactly what fees you're paying, calculate all the Amazon fees, including product cost, shipping cost, Amazon commission fee, closing fee & VAT fees.
This tool alone is fantastic, and can be the difference between you making a profit or loss.
Scheduled Repricing
Bqool have thought outside of the box with this one. It's one of those, that, now you've thought of it, you'll be wondering how you didn't adopt it sooner.
Scheduled Repricing rules allow you to gain ultimate control, giving you set schedules for when to turn on your strategies.
Do you have an item that sells well throughout the night? Beat your competition and schedule an Amazon repricing rule to help you win that buy box. This is a lightning fast repricer and it will apply within minutes of you enabling it from the user interface.
Other FBA Sellers won't even see you coming with this, as the price will change whilst they are not active. Then, when morning comes, the new price will be listed as your repricer 'goes to sleep!'.
Inventory Lab Sync
If you have an Inventory lab account, this tool will be greatly appreciated. Your selling life just got a little bit easier! Why?
Bqool repricing central syncs with Inventory lab, helping you to further optimise the min price and max price, but the integration ability lets you confirm the Return on Investment that you will get.
Repricing central: Summary
That's repricing central in a nutshell. It's your go-to repricing tool, and honestly it's probably the best repricing software that I've seen on offer. It has so many robust features and it's just so easy to use.
But that's not all, Bqool repricing central isn't the only thing on offer. They have created another suite of products, known as BigCentral.
It's worth pointing out here, Bqool Repricing Central and BigCentral are two separate products and they have separate pricing structures.
You can get access to a Free Trial for both products.
Repricing Central: Pricing
Repricing central starts at $25 per month, which is very respectable in comparison to competing products. It's actually super value. The largest plan is $300 per month, but this will be for sellers with over 50,000 listings.
| Features | $25 per month | $50 per Month | $100 per month | $200 per month | $300 per month |
| --- | --- | --- | --- | --- | --- |
| Repricing Speed | 15 minutes | 15 minutes | Instant | Instant | Instant |
| Conditional Repricer | No | Yes | Yes | Yes | Yes |
| AI Repricer | No | Yes | Yes | Yes | Yes |
| Rule-Based Repricer | Yes | Yes | Yes | Yes | Yes |
Bqool BigCentral
Bqool advise that their BigCentral product empowers sellers to become 7 figure sellers. With the tools on offer, I can't argue against the claims.
BQool BigCentral is a comprehensive software suite designed to provide sellers with a range of tools to optimize their Amazon business. It combines multiple features into a single platform to help Amazon sellers manage their operations more effectively and efficiently. Here's a detailed look at the key features (split into four key pillars):
Research: Identify Profitable Products through Product Research & Track them with the Product Tracker
Listing & Marketing: Keyword Research, Keyword Trackers & Ad Management
Sales & Inventory: Inventory Management & Profit Dashboard for Accounting
Service & Communications: For messaging buyers, requesting reviews & tracking feedback.
Profit Dashboard
With the Profit Dashboard, you'll be able to track all the financials that you require in one central location. This includes Sales, Fees, Financial Reports & even trends have been added.
If you need to simplify things, you'll have access to the Simple Profit & Loss sheets, but you can also see more detailed options such as Costs & Fees breakdown, Restocking & FBA fees.
They've even added an update recently so you can see Warehouse Damage, Lost Items & Missing Items.
If you're self-driven by targets, you can compare your own performance on a daily, weekly or monthly basis. This feature has received many positive reviews, as it's a great way for you to benchmark your Net spend. See, it's more than just an Amazon repricer!
Identify Product Performance
As a success Amazon seller, you might struggle to identify or keep track of the profitability of your items. Having over 1,500 ASINs, I feel the pain of this one myself. I knew I had profitable products, but I couldn't find them easily enough on my inventory tab.
But then, I discovered BQool's Profit Dashboard. This game-changing tool has truly revolutionized the way I manage my online business. Instead of hopping from one report to another, now I can see all my product-related sales, costs, profits, and margins in one easy-to-view dashboard.
What's more, the Profit Dashboard comes with a performance ranking list feature. This makes things even simpler for me. It's like having a personal assistant who constantly gives me a rundown of my top-performing products, guiding me where to best allocate my resources.
This user-friendly tool empowers me to understand my business better, saving me time and reducing the stress of managing my vast product list.
Thanks to BQool's Profit Dashboard, I can now focus more on growing my business and less on tedious number-crunching.
Email Automation
As an seller, there are tasks which you will want to automate. This will increase the efficiency of your business, ensuring that you only spend time on the most important of tasks.
The Email Automation will allow for you to create an email campaign, targeting your customers and requsting they leave you reviews. This would increase your storefront rating, important for long term success of your store.
You can filter out any buyers that have left negative feedback before, cancelled orders or even returned them. This would lessen the chance that you receive a negative feedback, which is a pretty cool touch.
They can even be scheduled, so they are sent during the perfect time of the day. What's the point sending an email that would be received at 1AM and deleted at 6AM, when the buyer has a clear-out of their mail?
If you can target this during the lunch break, they are much more likely to click on this and provide feedback. You don't have to worry about targeting this, as it's one of the data points that the AI model uses. Even on multiple marketplaces.
Keyword Research
As a seller, I've learned how vital relevant keywords are in my product description and PPC campaigns. They are like the magic sauce that boosts my product ranking and, in turn, drives my sales. But the tricky part has always been figuring out which keywords are the most effective. That was until I discovered BQool's Keyword Generator.
The Keyword Generator is more than just a tool – it's my secret weapon in the competitive world of Amazon selling. The beauty of it is that it uses actual search data from potential buyers. You heard that right. It takes the guesswork out of the equation by giving me an extensive list of relevant keywords based on what real customers are searching for.
But that's not all. It also provides me with associated traffic metrics for each keyword. This means I can see exactly how much traffic each keyword could potentially drive to my product listings.
The results? When using this, my Amazon product listings soared to the first page, supercharged by the power of well-targeted, relevant keywords.
Thanks to BQool's Keyword Generator, I now have a deeper understanding of my customers and the confidence to make my products stand out in a sea of competition.
I'm now preparing to start from scratch with a Private Label brand, using Bqool to start from scratch.
Expose Competitor Strategy
I haven't used this directly, but I can see exactly how this works. This tool allows you to spy on your closes competitors keywords and provides you with all the metrics required, for you to see if it's worth launching a product in their space.
It's great for an upcoming brand, and will provide you with the channel to launch new products quickly.
Bqool BigKeywords
When I started on Amazon, I found it quite hard to understand Keywords. I know that's pretty broad, I just presumed that the best items would appear at the top. Followed by the cheapest.
It wasn't just finding relevant keywords but understanding their historical significance and trends. This is where BQool's BigKeywords came to my rescue. It's not just a tool; it's like a vast library that holds an enormous collection of keywords, powered by a sophisticated algorithm.
One feature I've found to be game-changing is the ability to dig out historical keyword analytics. This 'time machine' allows me to see the rise and fall of keywords over time, which is invaluable.
Additionally, the BigKeywords system is filled with several exciting features like 'Hot & New Keywords,' 'Popular Keywords,' and my personal favorite, 'Seasonal Keywords.' These features enable me to tailor my keyword strategy to the time of year, helping my listings stay relevant and competitive.
It's thanks to BigKeywords that I've been able to boost my listings to that coveted page one spot.
You can use this over and over again, to optimize current product listings, boost PPC campaigns and it can be used over multiple Amazon marketplaces.
Amazon Product Tracker
The Amazon Product Tracker by BQool is a comprehensive tool that helps Amazon sellers like me track and validate product ideas.
It does this by capturing and analyzing critical product data such as daily price fluctuations, sales rank, and estimated sales. This accurate, reliable data is crucial for making informed business decisions and spotting winning products​.
One standout feature of the Product Tracker is the ability to monitor competitors' best-selling products. This lets me uncover the secrets behind their success and replicate their strategies for my own product launches. It's an invaluable tool for staying competitive in the Amazon marketplace​
The Product Tracker also offers additional features such as Product Idea Management and various alerts. These tools allow me to organize my product ideas for faster execution, keep track of key metrics, adjust pricing in real time, and even raise prices when competitors run out of stock.
Plus, the Profit Calculator helps me understand costs and fees to ensure product profitability.
All in all, the Amazon Product Tracker simplifies the process of identifying high potential products. If you're in the product research stage, it's perfect.
Buyer to Seller Messaging
BQool's Buyer-Seller Messaging service is a tool that helps you manage all your customer interactions in one place. It collects customer queries from multiple Amazon seller accounts and puts them into one easy-to-use platform.
This makes it simpler for you to respond to all your customers without having to log into different accounts, navigating onto different pages etc.
It wouldn't be Bqool's tool without having an element of Automation, would it?
To help you provide quick responses, this service has an Autoresponder feature. Amazon's research shows that replying to a customer's order question within 24 hours can reduce the chance of negative feedback by 50%. It will also increase the chance that the customer chooses you to purchase from.
So, the Autoresponder can send automatic replies to help solve the customer's questions, even while you're sleeping, or sourcing more stock!
The service also lets you use and create personalized email templates. These templates can be adapted for different customer service situations. And, if you're selling products globally, the templates can be automatically translated into multiple languages. You don't need to be able to speak these languages yourself – the service does it for you​.
Plus, there's a built-in HTML editor to help you create attractive and personalized email campaigns, making it easier to connect and engage with your buyers.
The cherry, on the icing, on the cake? They even provide you with personalised templates, which you can use for fast integration.
Review Central by Bqool
BQool's Review Central aims to protect your brand's reputation by managing and boosting your product reviews.
It helps ensure that a single negative review doesn't damage your sales and reputation by providing a comprehensive suite of tools to monitor, track, notify, and analyze all your product reviews across various Amazon marketplaces.
The service also boasts a Review Tracker, a feature that monitors review changes and keeps you alert every hour, so negative reviews never go unnoticed. This system is designed to track your product reviews as frequently as every hour to mitigate potential sales disruptions. Additionally, it allows you to identify popular product features, improve existing products based on negative feedback, and visualize review and rating trends over the past 90 days.
If you're starting out with a new brand, you'll need to be aware of this tool, because one negative review could cripple your reputation.
Product Research
The Product research tool takes store owners back to basics, helping to find profitable products which can be sold on Amazon.
There is a global database containing over 100 million products. If you're using this, you'll be one step ahead of the competition. It even gives you a return on investment estimation.
If you're not having luck finding products but see your competition growing larger and larger, you can follow them and detect their new products, making an opportunity for yourself.
Feedback Manager
Bqool have recently added the Feedback manager tool. This is another great review from me, as I think companies that consistently develop tools are the ones you should be subscribed to.
Bqool release new tools and don't charge extra for them, they add them to your subscription.
This tool simply allows you to engage with sellers who leave negative feedback, contacting the buyer to resolve issues with ready-made templates.
I did tell you Bqool was like a Virtual Assistant, didn't I?
BigTracker Extension
Everyone uses Google Chrome now, don't they? Well, knowing this, Bqool developed their own Chrome Extension, which is called BigTracker. This will give you a glance of your dashboard, from any site that you're currently on.
It integrates with the Amazon search page to help you find key metrics of profitable products, optimise keywords and even steal your competitors keywords.
Bqool BigCentral Pricing
BigCentral is a great tool. It ranges from $50 to $500 per month. This is dependent on your business needs. I've created the below table so you can see the differences. For most sellers, the business plan will be sufficient and is great value at $50.
You can get further discounts paying annually.
| Features | Business ($50) | Diamond ($100) | Elite ($200) | Pro ($300) | Enterprise ($500) |
| --- | --- | --- | --- | --- | --- |
| Email Automation | 5,000 emails | 20,000 emails | Unlimited | Unlimited | Unlimited |
| Product Tracker | 60 ASINs | 200 ASINs | 500 ASINs | 750 ASINs | 1250 ASINs |
| Automatic Review Tracker | 500 ASINs | 2000 ASINs | 4500 ASINs | 7000 ASINs | 12500 ASINs |
| Simultaneous Logins Allowed | 5 | 10 | 15 | 20 | 20 |
Bqool Discount Code
BQool doesn't have any discount codes at this time. However, they do offer an extremely generous free trial which you can access. Simply scroll to the top of this page, and you will be able to access this.
If BQool do run promotions going forward, this area will be updated.
Bqool Customer Support
The Bqool customer service team have a well respected 4.5 out of 5 rating. They understand that their product is extensive, and it will take time for you to get to grips with it. For this reason, they have created a 14 day trial, which gives you enough time to try out all of the required features.
Their support team are available via Zendesk Live Chat on their website, with them being available Monday to Friday.
I have only contacted Bqool once to discuss a delay within a repricer, but this was my fault due to mixing up the minimum price and maximum price. So the repricer couldn't take effect, as the query made no sense!
This is no fault of Bqool's, I received fast communication and customer service, even though I felt a bit embarrased!
Is Bqool easy to use?
It's easy to get started with Bqool, and it's really easy to use. You'll be able to get started in no time using their repricing software.
The longest delay will be the first import of your Amazon inventory, but you'll find this is completed by the time you come back from grabbing a coffee.
Pros and Cons
There is no tool that's perfect on the market. BQool, is a great tool but there is an area that it could improve upon.
Pros:
Automatic Repricing: BQool's Repricing Central tool can automatically adjust your product prices based on your set parameters, helping you stay competitive with other sellers​​.
Product Finder: This feature allows you to search and track the performance of specific products in your niche, providing you with valuable market data.
Profit Calculator: BQool automatically calculates your profit and potential profitability, which can be critical in making informed business decisions​.
Buy Box Predictor: BQool offers a feature that predicts your likelihood of winning the Buy Box on Amazon​​.
Price and Rank Alerts: The platform sends you alerts about important changes in price and sales rank, enabling you to react quickly and make informed decisions​.
CSV Processing: BQool allows for bulk processing of CSV files, enabling you to make large-scale changes across your inventory.
Long Free Trial Periods: You will get plenty of time to test the flexible repricing service, another showcase of their great customer service from the support team.
Cons:
No Bundled Price Available: We would like to see a 'bundle' of BigCentral and the Repricer tool, so make things more affordable for customers.
Response to Market Changes: There might be instances where the repricing tool is slow to respond to changes in competitors' prices and sales ranks, which could impact your competitiveness​.
Comparisons
As selling on Amazon gets more popular each year, so does software that companies introduct. Bqool isn't the only repricing tool that is on the market. Here are some other repricing apps:
Seller Snap: This tool offers automated repricing and analytics for online retailers. It uses Game Theory tactics to ensure your products remain competitive on Amazon, with the aim of capturing the Buy Box at the highest possible price.
RepricerExpress: RepricerExpress offers Amazon sellers the ability to compete for spots in the Buy Box and More Buying Choices Box. It allows sellers to reprice their products and compete with other sellers on multiple marketplaces.
Conclusion
We are huge fans of Bqool. Their software, especially BigCentral, is groundbreaking. They aren't the cheapest tools on the market, but they are tools that exist to help you maximize profit by raising minimum prices on your listings.
It works with AI, which will help you to automate your business. Whether it's sending automated emails, or altering the repricing frequency so you're the one on the buy box.
The Bqool repricer is also an easy to use, effective tool. If you want to start repricing, try their free trial.