It doesn't matter if you're a 7 figure seller, or if you haven't sent in your first package to your local Amazon Fulfilment center, you need to have the best tools in order to succeed. And everyone has to start somewhere.
The problem? There are quite a few product research tools on the market that come with a hefty monthly fee, but they won't actually help you scale.
Key Takeaways
Pros
Easy to Use
Smooth Interface
Supplier Database
Affordable
Training Videos
Best Product in it's class
Cons
No Dedicated Mobile App

Focused only on Sourcing & Selection Process
Key Takeaways
Pros
An All in One Tool that caters for everything to grow your business
More Tools than Jungle Scout
Cons
Much more expensive than Jungle Scout
Not easy to use, straight out of the box
No Mobile App
In this guide, we'll compare Jungle Scout vs. Helium 10, which are two of the most popular tools for researching products and keywords. Ultimately, these will help you make an informed decision on what items you should be selling.
When it comes to Amazon product research, Jungle Scout and Helium 10 are both popular choices. Jungle Scout offers a Chrome extension that provides sales estimates, competition analysis, and more.
Helium 10 offers tools like Black Box, which allows you to search for profitable product ideas based on your specific criteria. With your membership, you'll also have access to a suite of tools for keyword research, listing optimization, and more.
In this Jungle Scout vs Helium 10 comparison, I'll be covering:
What both of these product research tools do
If Jungle Scout is better than Helium 10, or vice versa
The Pros and Cons of each tool
A breakdown of all the features included
A comparison of the pricing structure
If your personal needs are more suited to Helium 10 or Jungle scout
I'm excited for this one, so let's get into it right away. Starting with Jungle Scout tools.
About Jungle Scout
Jungle Scout needs no introduction, as it's the most popular tool that Amazon Sellers such as yourself should already be aware of. If you aren't aware of this, I have also created an individual Jungle Scout review that you need to read.
It's called Jungle Scout as a play on words. Legally, they can't use Amazon Scout, as it's a brand name, so they've gone with Jungle. Scout, well that's obvious, their product is your eyes and ears!
Jungle Scout is an Amazon research tool that helps you find winning products, estimate sales, look up keywords, and spy on rivals, all from one easy-to-use dashboard. It sounds like a lot to take in at first, but I'm going to break all of this down as I compare it against Helium 10.
Basically, it shows you right away which goods will make you the most money and help you grow your business the fastest.
Greg Mercer started Jungle Scout in 2014. Based in Austin, Texas they are rumoured to be a billion dollar company. They're not a startup that you're gambling on, their software works.
Before Jungle Scout came about, I'm not entirely sure how Amazon sellers operated. I can only think that they would make purchasing decisions based upon trends and competitors. It must have been hard and time consuming.
Now, you can get the same data from clicking 'enter' on Jungle Scout and simply analysing data. Let's start with the features.
Jungle Scout Overview and Features
There are lots of sellers that declare you must be around for the long-term in order to make money on Amazon.
However, this is not always the case, and it's thanks to Jungle Scout for this. It allows you to gain quick wins in your product research, which will set you up for success in the long term.
There are over 70 million products in their database, which is by far the most comprehensive we have seen. This will help sellers like yourself find new ideas, using their sales rank data.
The main products that help with this are:
Product Database
Points don't' win prizes, Product research does. This database has recently been renamed from Niche Hunter and it's a powerful tool for product research.
The Product Database is actually my favourite part of Jungle Scout because I love doing product research on Amazon. It lets you find niche ideas, goods, and keywords that will make you money based on things like:
Marketplace – You can filter for a specific country you're targeting (For Example United States or French)
Product Category – This is the category that you're looking for (For example Beauty or Garden)
Competition – Ranked on a Score of 1-10, with 1 being less competition and an easier chance of ranking #1. Position 10 would be more difficult to rank.
Listing Quality Scores – This is a ranking for how the product listing is optimised. A well optimised listing has much better chance of ranking well. This is also known as Amazon SEO.
Opportunity Score – This is an aggregated score, which combines all of the potential factors and gives you an overall opportunity score. The higher the score, the better the opportunity will be.
Average Price – This helps you to quickly analyse the average price and helps you to understand if you'll be competitive.
I liked it being called Niche Hunter though, nice and aggressive!
Jungle Scout Chrome Extension
The chrome extension on Jungle Scout is a great tool, and can be compared to Helium 10's Xray tool which you will see me mention later.

By finding out when promotions and product sales were at their highest, Amazon sellers can make better purchasing decisions. Jungle Scout has also made a great Chrome extension that merchants can use to find products on Amazon by typing in certain keywords.
You can assess a product's potential in seconds, as you're browsing the Amazon marketplace.
When you run the extension, you will be given the top listings within the specific category (niche) that you're searching for.
I've opened up the Chrome extension, searching for Hangover Masks. It's produced the following results.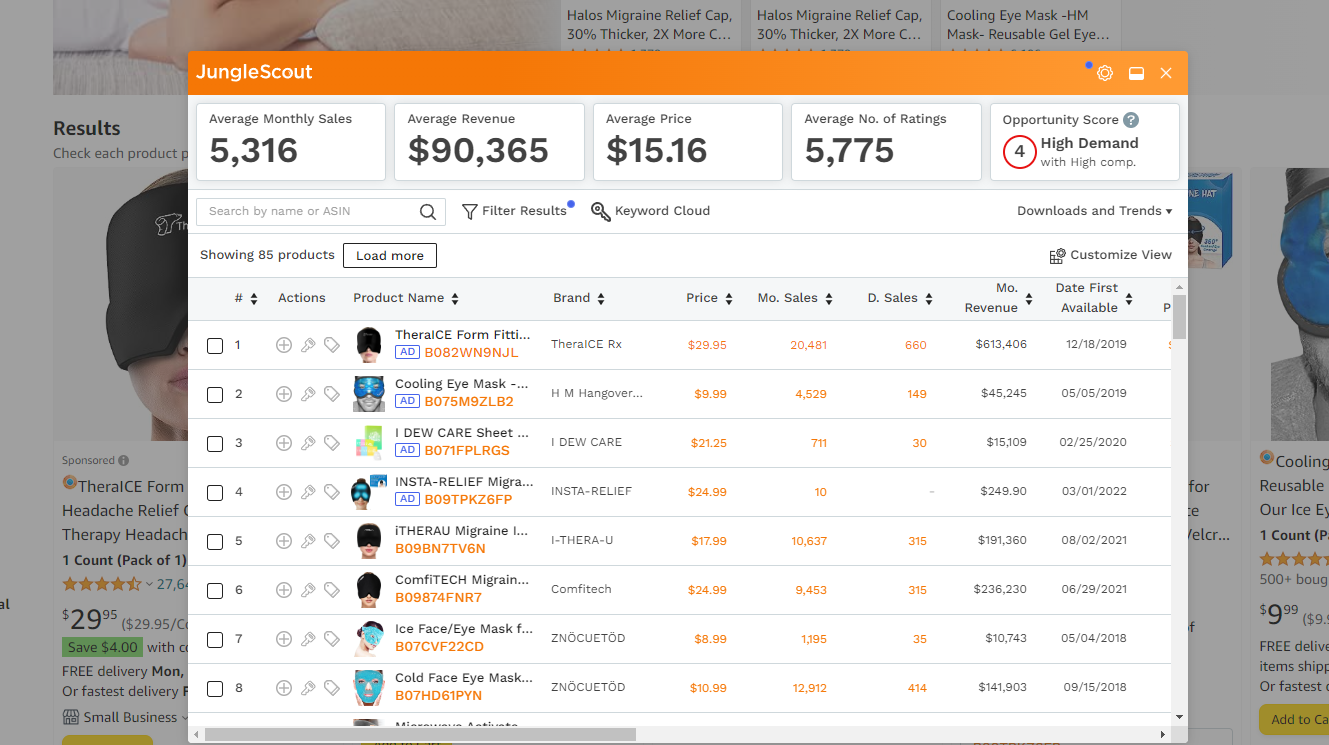 At a quick glance, you will be able to see the average monthly sales, the average price and the opportunity score. These are key figures, allowing you to see at a glance if you can compete.
The opportunity score is 4 out of 10, showing High Demand but High Competition. This means that whilst these are selling well, you're not the only amazon seller that's interested in selling them.
There's so much more that you can do with this too, but you can read that in our Jungle Scout Chrome Extension Tutorial.
This tool is so powerful that it used to be a separate product, but now it's included with your membership.
Product Tracker
Once you have found a potential new product idea, you can add this to your very own Product Tracker.
Product Tracker is the best way to keep track of how well a group of products does over time. Keep an eye on sales to find good opportunities and make a plan for doing well on Amazon.
Keep a close eye on a product or group of products' average sales, revenue, and Best Seller Rank. Follow products over time to learn important things about the market so you can make smart decisions for your Amazon business.

Make groups of products that are the same to see all of their metrics on a clean interface.
You can change the order of the products in a group by dragging and dropping, and you can change the columns so that you can see the information that is most important to you.
Find out about the average daily sales, price, rank, and more for each tracked product. Dig deeper and look at a graph of the product's inventory, units sold, rank, and Buy Box price over time to see how it compares to its competitors.
Supplier Database
In the Online selling world, the partnerships you form often determine your success or failure. The suppliers you choose to work with are the ones that play the biggest part in your success.
Supplier selection is risky because you don't know who you're dealing with, where they're actually from, or what type of product they'll produce. It's almost as if you have to take a chance.
If only there were a global supplier database that you could access.
Well, there is!
The Jungle Scout Supplier Database was the first of its kind, and it still to this day remains an impressive resource. You'll get Instant, unrestricted access to vetted, high-quality suppliers.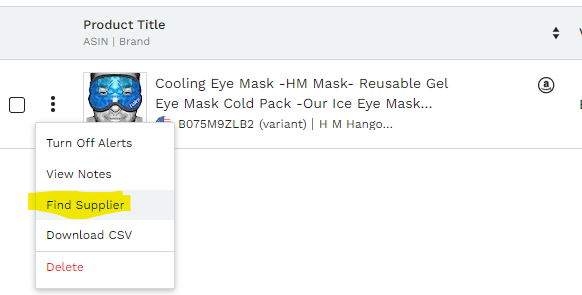 When I first saw this, I thought it would give me a random supplier and I would still be taking a chance. How wrong I was.
Instead of relying on gut feeling or uncertain foreign information, the Jungle Scout Supplier Database provides you with vital information, such as customer volume, number of confirmed shipments, current customers, and even price comparisons.
They are acting as a middleman, taking out any fears that you place an order and the company goes missing.
Your product will be made quicker, better, and most importantly, by someone you can trust. Jungle Scout eliminates all risks associated with locating a supplier.
Opportunity Finder
I really like how opportunity finder works. If you're looking for a niche product that has massive demand, super profitable margins complimented by low competition, you'll like it too.
Opportunity Finder unlocks the potential of a keyword for finding profitable product niches. Transform a keyword into a market segment and access comprehensive data on sales performance, emerging trends, and competitive insights.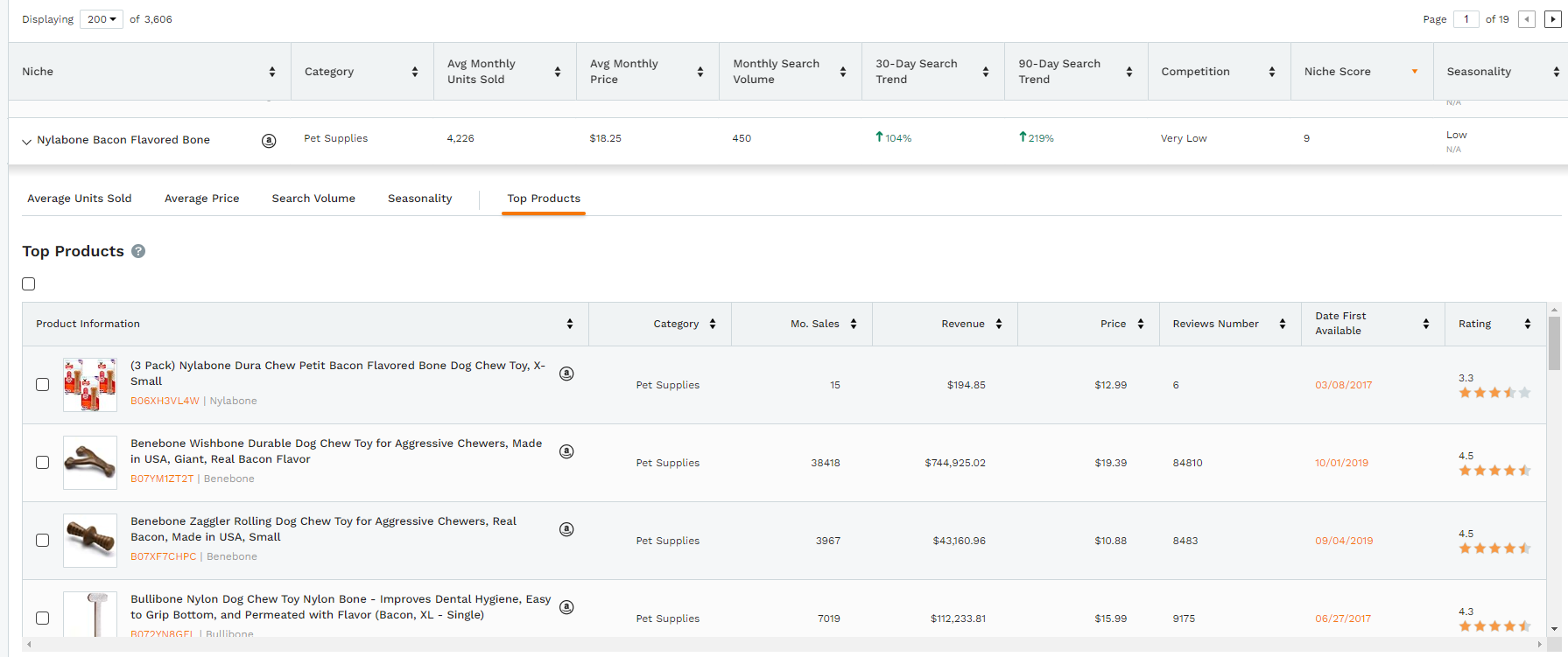 View the top 25 products in each market opportunity. Add these products directly to Product Tracker in order to expedite your product research, monitor competitors, and analyse the market in order to formulate your own winning strategy.
Concentrate on Amazon keywords with low competition and high demand. Bypass time-consuming manual research and let Opportunity Finder's predefined categories and filters direct you to a successful product.
Obtain a comprehensive historical overview of a particular keyword. See historical average units sold, average price, volume of searches, seasonal trends, reviews, and supplier information to assess product performance and market viability.
Determine which niches have seasonal spikes, avoid top brands and you can even filter for seasonality, ensuring you aren't buying a product that's only going to sell a few units until the sunny days.
Features on Jungle Scout that Helium 10 Doesn't have
Although we are comparing these two giants, it's also good to see what each one doesn't have. You don't want to subscribe to one and miss something that you need.
Helium 10 doesn't really offer much in terms of Launching a product. That's fair enough, as it's not their expertise. For that reason, don't be shocked to see that these features are exclusive to Jungle Scout:
Supplier Database
As I have already mentioned above, the Supplier Database is literally a cheat sheet for you. Instead of taking chances with unknown suppliers, you'll see a list of reputable suppliers and their ratings.
In addition to saving you wasted money on unsuitable suppliers, you'll be spoon-fed suppliers that can serve your needs.
Product Launch
There are two important elements to Product Launch, Email Campaigns and Promotions. The Email campaigns will help you to interact with your existing customers and build relationships, whilst the promotions will advertise your discounted promotions on JumpSend's Marketplace. This is a specialist marketplace with over 100,000 shoppers looking for discounts.
What is Helium 10?
Whereas Jungle Scout is a product research tool, Helium 10 is a complete suite of Amazon FBA tools which cover product research, store management, product listing optimisation (SEO). It even manages your PPC Campaigns, protects sellers against fraud and more.
We've also completed a full Helium 10 review which goes further into depth about their core features, with one of the most in-depth tutorials you'll find from a seller that's actually used it.
This is where it gets a bit confusing for customers, as Helium 10 is more expensive. It also has a lot more functions, which I am going to explain below.
Helium 10 Features
Helium 10 has lots of features, I've counted 27 at my last summary. I also conducted a full Helium 10 review which you can read to get a full understanding on these. For now, I'm going to stick to Black Box, Cerebro, Magnet, Frankenstein and Scribbles. Oh, and their latest addition Xray.
That's another thing you will get used to with Helium 10. Their product names are quite interesting!
Black Box
Black Box is Helium 10's very own product & keyword research tools. Using intelligent filters and efficient data management, the tool reveals new product ideas.
The highest-ranking keywords are ideal for optimising titles or adding keyword search terms to Helium 10 Adtomic pay-per-click campaigns. ( The high ranking keywords are initially best targeted via Ad campaigns).
The data can be used to optimise product listings by analysing the competition, average sales volume, search volume, and average price of any product on Amazon. A few minutes are sufficient for merchants to conduct product research that would otherwise require several days.
One of the greatest challenges for consumers is misspelling the product name or the keyword when searching on Amazon. Amazon corrects misspellings in some cases, but not in others.
Cerebro
Discover powerful keywords effortlessly with Cerebro, a cutting-edge tool offered by Helium 10. Unlock the ultimate advantage of conducting a reverse ASIN search.
Discover the power of researching keywords through product numbers instead of relying solely on seed keywords. Discover top-ranking keywords instantly. Discover a wide range of Amazon products ranked for similar keywords with ease, as merchants gain access to this valuable feature.
You can also boost your product's ranking with Helium 10's IQ and product rank score, exclusively designed to help merchants secure the top spot.
Frankenstein
Frankenstein can be used to narrow down a huge list of thousands of keywords that were found during the initial keyword research. People use keyword groups to make management and organisation better.
Through Helium 10, merchants can organise and filter keyword phrases to make them work better.
Magnet
Magnet is a keyword research tool, helping sellers to find the best keywords by search volume. This is a sellers dream, and you can put the results straight into Frankenstein.
Scribbles
The tool can also be used to find out how keywords for competing products rank, which lets the merchant steal those keywords. With the Scribbles tool, store owners can have a lot of fun.
Once the most important keywords have been found with Frankenstein, they can be used as a title in the listing description with Scribbles. When a keyword is used, it is taken off the list.
Can you see how these tools are each one of the stones, with your Amazon store being the inifinity gauntlet?
X-Ray
Forming part of the Helium 10 Chrome Extension, this tool adds information on top of the Amazon marketplace website to help you find product opportunities.
Xray shows you important market information that will help you make better decisions and save you time and, most importantly, money.
When it comes to the tools we use every day as Amazon sellers, the X-RAY chrome extension is by far the most useful and most often used tool for quick market research. I use this tool all the time to check on products I think might be good ones to sell.
When you have a list of criteria that you use to choose a product, the X-RAY tool, as its name suggests, looks into how the market works and gives you data that you can use to figure out what to do next. We usually look at things like monthly sales, how competitive the market is, the number of reviews, and the number of units sold, just to name a few.
All of this information and more is shown by X-Ray in seconds, which speeds up your workflow and lets you find 100s of potential winners and losers every day.
Features on Helium 10 that Jungle Scout doesn't have
Just like Jungle Scout focuses on a specific client before they've launched, Helium 10 focuses on post-launch. This means they have a variation of tools which offer different support to your business.
Refund Genie
This is a tool which manages all of your refunds and reimbursements that are due. As you scale, tools like these are heavenly, as you won't remember to chase a $10 refund. However, a few hundred of these in a year would pay for your family vacation!
Review & Feedback Manager
There's a tool like this on Jungle Scout, but it works completely different. This is an automated tool to request feedback from customers, which is mandatory for growing your brand reputation.
Inventory protector
This neat tool prevents you running out of stock on a specific item, which will limit the amount of units a customer can purchase. If you have a re-pricer that's made a mistake, this will kick in and save your profit margins.
Jungle Scout vs Helium 10: User Experience
The user interface for these tools is simple and easy to understand, which makes them easy to use. Let's take a close look at their product database tools and see how they compare to each other.
However, Jungle Scout's interface is a little easier to understand. You will be able to sign up and jump straight into their tools, whereas you might need to watch a few of Helium 10's videos to get up to speed.
Verdict: Both of these have intiuitive designs, but we give this one to Jungle Scout for their ease of access for beginners.
Free Versions: Compared
Helium 10 and Jungle Scout both offer free tools to help you get started, or give some basic information.
Helium 10 has:
Free Amazon Keyword Tool: Use Amazon SEO tools that work well to bring in as much traffic as possible. By entering a seed keyword or ASIN, you can quickly find thousands of competitive and relevant search terms
Free Amazon PPC Audit Tool: To build an ad strategy that will reap rewards, with 5 Key Performance Indicators
Google Chrome Extension: Every research tool, condensed into an extension. This helps you to analyze products and maximize selling opportunities
Anomaly Tracker: This advises you if your listings have dropped off the search results, due to an amazon glitch
Sales Estimator: This predicts monthly sales volume over chosen Amazon categories
Trending Products: A handy area to see which products are trending in any category
Jungle Scout has:
Profit Calculator: To help you accurately Calculate Amazon FBA Seller Fees, Revenue & Profit.
Estimated Sales Calculator: Similar to the Helium 10 tool, this predicts estimated sales per month for any given item.
Helium 10 is the winner when it comes to value from the free tools.
Jungle Scout vs Helium 10: Pricing Plans Compared
Both Jungle Scout and Helium 10 come with three price structures.
Helium 10 call theirs Starter, Platinum & Diamond whereas Jungle Scout label theirs as Basic, Suite and Professional.
We are going to break these down and compare the plans against eachother, so you can work out which one is best for your needs.
After looking at the individual pricing plans, you'll be able to make a decision on which one you prefer.
Jungle Scout Pricing Plans
Jungle Scout used to charge a percentage of your revenue, but changed their pricing structure to the above, to make things easier for their customers to predict.
The most popular plan that Jungle Scout offer is the Suite level. This is $69 per month, but if you pay annually you can get it for $49 per month. That's quite a good discount and it will save you $240 over a year.
I really like the Supplier Database that's include from Suite level upwards. (You get 3 searches per day on basic, too). This supplier database will inform you of potential suppliers for products you're interested in. Another tool I like is Inventory Manager, which informs you when you need to order replenishables for yoru inventory.
I will admit, Jungle Scout has an easier to understand pricing structure. This, combined with being easier to use in general makes it a fan-favourite.
Helium 10 Pricing Plans
The basic plan for Helium 10 is completely free. However, you really don't get much to play with and you'll struggle if you can't use the tools. Their pricing for premium plans starts at $39 per month, with their highest tier being $279 per month.
They also have some extra add-ons; Adtomic, Market Tracker 360 and Elite Exclusive Training which are premium tools I'll also explain to give you a full understanding.
The $99 Platinum plan is the most popular package an Amazon seller such as yourself should consider. This offers a great product research tool, keyword research tools and competitor research without breaking the bank.
You can track 2,500 keywords monthly, receive 100 ASIN alerts and use the Index checker.
It's not easy to understand what's included and what isn't though, so I'll be clearing this one up below.
Jungle Scout vs Helium 10: Pricing Plans Compared
Both Jungle Scout and Helium 10 come with three price structures. Helium 10 call theirs Starter, Platinum & Diamond whereas Jungle Scout label theirs as Basic, Suite and Professional.
We are going to break these down and compare the plans against eachother, so you can work out which one is best for your needs.
Jungle Scout Pricing Plans
Jungle Scout used to charge a percentage of your revenue, but changed their pricing structure to the above, to make things easier for their customers to predict.
The most popular plan that Jungle Scout offer is the Suite level. This is $69 per month, but if you pay annually you can get it for $49 per month. That's quite a good discount and it will save you $240 over a year.
I really like the Supplier Database that's include from Suite level upwards. (You get 3 searches per day on basic, too). This supplier database will inform you of potential suppliers for products you're interested in. Another tool I like is Inventory Manager, which informs you when you need to order replenishables for your inventory.
Plan Name
Plan Features
Price

Jungle Scout BasicBest for Beginners

Full access to the browser extension (Chrome + Firefox)
Single user license
Review Automation core tool

$29 per month

Jungle Scout SuiteMost Popular Plan

Unlimited product and keyword research searches
Listing Builder with AI Assist (Beta)
Review Automation with Advanced features
Advanced seller features
PPC analysis

$49 per month
(Save $240)

Jungle Scout ProfessionalFor Experienced Sellers

Track up to 1000 ASINs
6 users included (Ideal for VA's or Larger Businesses)
6 months of historical data in Product Tracker
2 years of historical keyword data

$84 per Month
(Save $549)
They have recently added the AI Assist Listing builder too. AI is everywhere, and Jungle Scout has successfully incorporated this too. This clever tool uses AI to optimise your product listings, using popular keywords and titles to help your item rank better.
Helium 10 Pricing Plans
Helium 10 have a very similar pricing structure to Jungle Scout,
Plan Name
Plan Features
Price

Helium 10 StarterBest for Beginners

2 Product Alerts

Limited Black Box Access

Limited Cerebro Access

Limited Magnet Access

$29 per month

Helium 10 PlatinumMost Popular Plan

Full Access to Product Research Tools

20 Product Alerts

Full Black Box Access

Track 500 Keywords

$79 per month (Save $240)

Helium 10 DiamondFor Expert Sellers

Refund Genie & Inventory Management

200 product alerts

AI Enhanced Listing Builder

Track 2,500 Keywords

$229 per Month
(Save $599)
Jungle Scout vs Helium 10: Which is Cheapest?
These pricing plans are completely different, but the included tools do also vary. If you're looking for a solid product research tool, you can't go wrong with Jungle Scout.
Jungle Scout offers more competitive pricing, advanced features and an interface which you can access and learn with ease.
Ease of use is an under-rated criteria to fill. It's OK having great product research tools, but if you can't utilise it to find the best data, you won't be a successful amazon seller. Or at least, you won't be as successful as you could be.
Jungle Scout is significantly cheaper than Helium 10.
Final Verdict: Which Tool is the best?
I want to stress that we haven't been paid by either company to create this article. Yes, you'll find an affiliate link at the top of the article, but that's how we can ensure to keep this website a free resource for all amazon sellers to learn from.
All you will get with us is honesty, and my honest opinion is that Jungle Scout is the better suited product for Amazon Sellers. There are some instances where Helium 10 would be more suited, but that's for established private label sellers that have already found their products to sell.
You need elite keyword research and planning, and therefore you need Jungle Scout.
Frequently Asked Questions
Now it's time for the Questions from our readers. I have received a lot of questions comparing these two tools, so I have decided to include them at the bottom of this article. Afterall, who better to answer your questions than someone who has tested both tools.
What is the main difference between Jungle Scout and Helium10?
Jungle Scout is a tool that sellers used when they aren't yet sure what product they need to purchase. The tools available there will help sellers find out what sells well, and even enable them to make contact with reputable suppliers.
Helium 10 is suited towards sellers that have their product, but looking to scale their business further.
Can I use both tools simultaneously for product research?
Yes, you can use both tools. However, this would need deep pockets, as you would be required to purchase both subscriptions.
There are sellers that do use both Helium 10 and Jungle Scout together. Although we are looking for the best tool, they can work in unison.
Which tool is better for beginner Amazon Sellers?
Jungle Scout. For the stress that it will save you looking for a reputable supplier alone. When combined with the pre-launch product research tools, you can't lose with the Jungle Scout tools.
Remember, Helium 10 is a product that's more suited towards already established businesses, that want to scale.
Are there any limitations to the data provided by these tools?
No, we have found their data to be extremely accurate and have no limitations.
Can Jungle Scout and Helium10 be used in non-English markets?
Yes, both products suit International markets.