So far, we've covered quite a few Amazon online arbitrage tools. One thing these tools generally have in common is that they require you to do most of the legwork.
Online Arbitrage Deals take a different approach, though. Instead of giving you the tools to find profitable Amazon FBA deals, it does the research for you.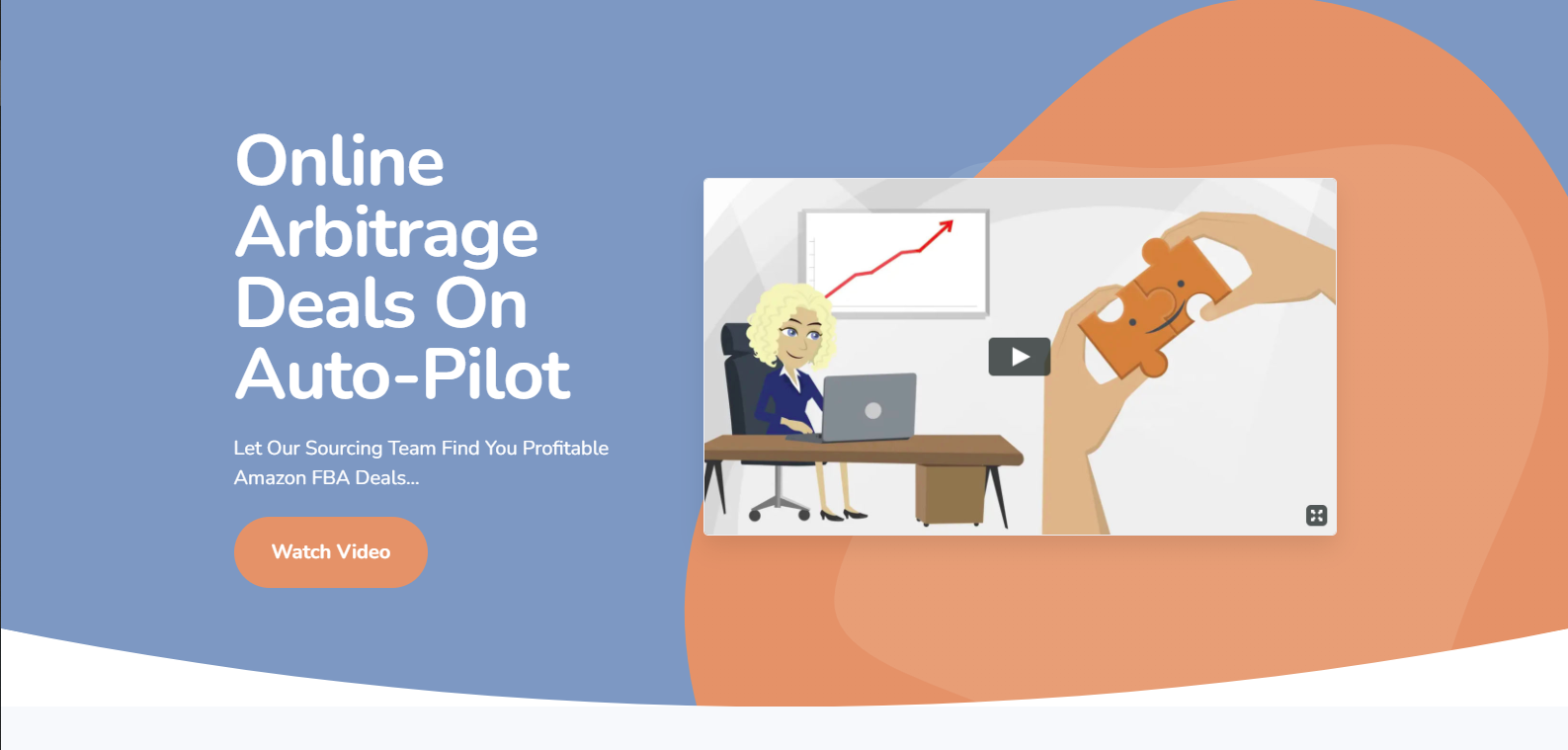 In this article, we'll go over everything you need to know about Online Arbitrage Deals – how it works, what are our experiences with it, and how much it costs. As a bonus, we'll cover some of the basics of the online arbitrage business, the pros – and cons – of this business model, and give you a quick overview of how it works.
If you have never heard of online arbitrage business models, our Online Arbitrage Deals review is the perfect place to learn.
What Is Online Arbitrage?
Before we get into the review, let's learn what online arbitrage is.
Online arbitrage is a business practice of buying products for online retailers and stores and reselling those products at a higher price on another online store, such as Amazon and eBay.
Online arbitrage allows you to source profitable products from thousands of online stores as opposed to limiting yourself to physical retail stores in your area.
This business model also saves you gas, time, and the frustration of not finding viable products in physical stores.
The best part about online arbitrage? Anyone can do it.
You don't need special licenses to buy products and resell them for a nice profit. It's completely legal because once you purchase a product, you have the right to resell it.
Best sites for online arbitrage
A really fun thing about Online Arbitrage, is the fact that there's not a single site that offers all of the promotions for you to profit from. Whilst this would make it easier, it also makes things easier for other online arbitrage sellers!
How Does Online Arbitrage Work?
The way this business works is pretty straightforward – and involves a couple of steps:
Search for products that are on deep discount or on clearance at major department stores or on an online retail store – such as Target.com or Walmart.com.
Search for the same product on Amazon.
Order the products that sell for a higher price on Amazon.
Wait for the products to arrive.
List the product for sale on Amazon as soon as they arrive via FBM or repackage and ship your stock to FBA.
As you can see, there's nothing overly complicated about online arbitrage.
Online Arbitrage: Pros And Cons
Online Arbitrage surely is a unique way to source and sell products on Amazon. However, that doesn't mean there are no downsides.
So, let's go over the advantages – and disadvantages – of doing online arbitrage.
Pros
You Can Source Products From Your Home
The biggest and most significant advantage to online arbitrage is the freedom it gives you. You are not limited to physical retailers. There are thousands of online retailers out there, meaning you don't have to leave your home to find a product you can sell for a great profit on Amazon.
It's A Low-Cost Way Of Selling Products On Amazon
If you're a beginner, online arbitrage is a sure way of getting started as a seller. Where private labels require you to put up thousands of pounds up front, you can start with online arbitrage with almost no budget. There are thousands of items that sell for a single pound – and that you can then resell for double the price on Amazon.
Free Packaging
Because you're ordering products from stores, they come to your home already safely packaged. You'll save thousands of pounds on packaging materials such as bubble wrap, boxes, packaging paper, and the like.
The best thing about this is that you can ship your stock to FBA with the box you received it in.
You're Not Limited To Physical Stores
Since you're not limited to physical retailers, the sky is the limit. Thousands of online stores around the globe sell items at low prices, making them cheaper than Amazon.
You won't even have to get into your car and drive around to find a deal that's worth investing in. You can find thousands of deals from the comfort of your own home.
You Can Buy Products In Large Quantities
If you find a profitable deal online, you can usually purchase more products than you could in a brick-and-mortar store. Physical stores only have so much stock available – and some even limit the number of products you can buy.
Even if a particular online store has a limit to the number of items you can buy, you can always check out another one that doesn't. Because you can do all this from your home, you're saving a lot of time – and petrol money.
Cons
Competition
Anyone can shop from the same websites – meaning there's much more competition in online arbitrage than in retail arbitrage. What's more, because there are lots of product sourcing tools out there, you can get outcompeted in an instant. That's why most beginners find it difficult to turn a profit.
But everything is possible if you invest enough time – which brings us to the second downside of online arbitrage.
You Spend A Lot Of Time On Product Research
Finding the perfect deals involves more than just a couple of Google searches.
Online arbitrage often involves a lot of back and forth between a retailer's website and Amazon to compare prices. And because there are thousands of online stores out there, it could become very tedious to do product research. Thankfully, a few services and apps can help you with that.
For instance, BuyBotPro can give you a detailed brief about a product's price history, stock levels, and well as when it sold the most.
Calculating Profit Can Be Difficult
If you're in retail arbitrage, there are numerous Amazon seller scanner apps you can use that will show you your potential profit for a particular product.
There are tools for online arbitrage, but they're very as accessible and easy to use. You'll have to pay for most of them, though.
What Is Online Arbitrage Deals?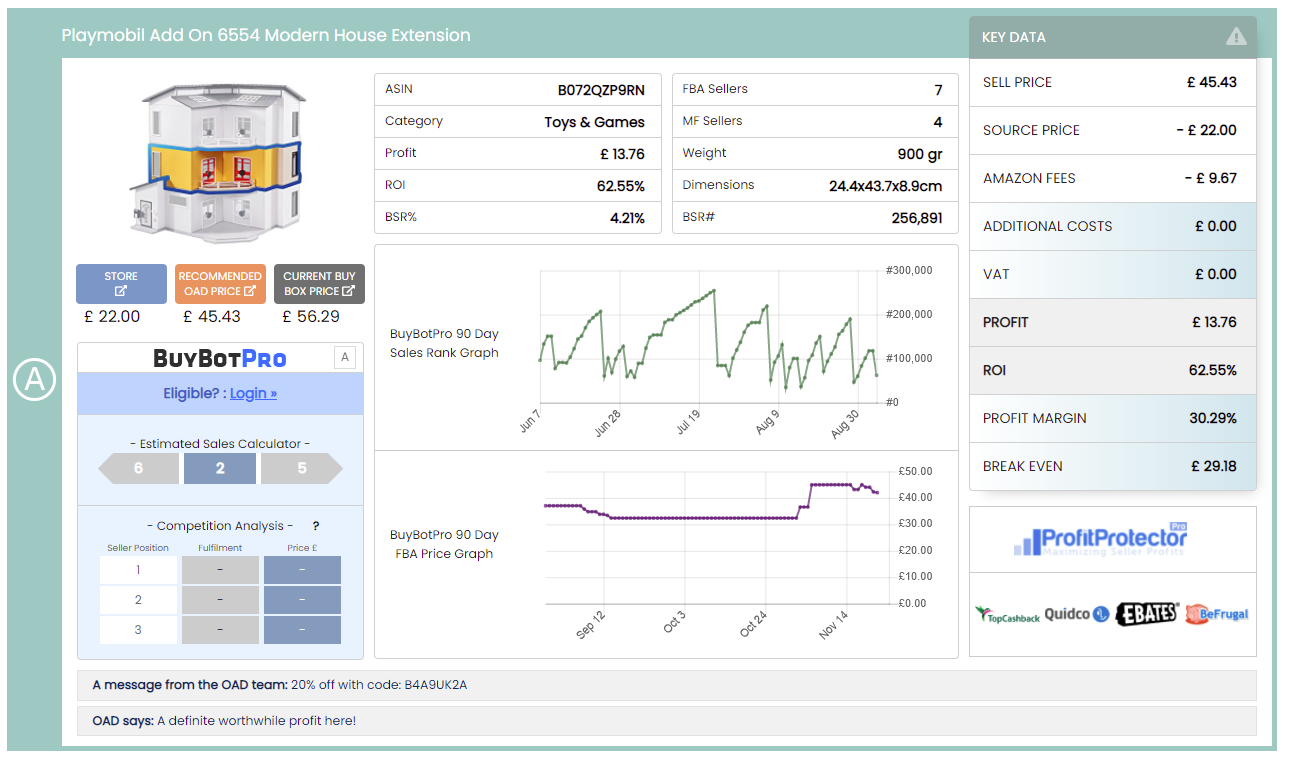 As you might've gathered from the intro, Online Arbitrage Deals is a deal-finding service for Amazon FBA sellers. They have an extensive team that scours Amazon for the day's best online arbitrage deals.
So far, the company supports US and UK sellers. We're yet to see if they'll expand their services to sellers all over the world.
Online Arbitrage Deals has an army of virtual assistants that'll scour the depths of Amazon to find the best online arbitrage deals. They'll go out of their way to remove any products that might cause problems – such as private labels and HAZMAT products – as well.
Once you log in to the service, you'll be greeted by a whole host of deals. Keep in mind that they don't only do Amazon online arbitrage sourcing; they also cover dozens of other stores, including Ikea, Boots, Iwantoneofthose, and much more.

We'll get into how this service works a bit later in the article. Let's first find out why would you use an online arbitrage sourcing service in the first place.
Why Use Online Arbitrage Deals?
While running an online arbitrage business is far from complicated, it takes quite a bit of time to find enough profitable products to sell on Amazon and grow your business consistently.
Most people start online arbitrage as a side hustle, meaning they don't usually have the time to dedicate to properly growing their business. Sure, they are able to find a few deals each day, but not nearly enough to make online arbitrage their full-time job.
Thankfully, though, there are several ways to speed up your product search:
Use Amazon arbitrage sourcing software
Hire a virtual assistant
Use deal-finding services
Each method has its pros and cons – but deal-finding services are commonly used because they encompass all three. Most online arbitrage deal sourcing services employ teams of virtual assistants that use cutting-edge Amazon seller tools to find good deals you can capitalize on.
Although most online arbitrage tools are pretty good at compiling sales rank data, FBA fees, storage cost, Amazon fees, and calculating net profit – you still have to invest time in finding great deals that will grow your Amazon business.
Well, a deal-finding service can do all the legwork for you. It'll narrow down a list of hundreds of products to just a handful worth selling on Amazon for the best profit margins.
What Makes Online Arbitrage Deals Different From Other Deal-Finding Services?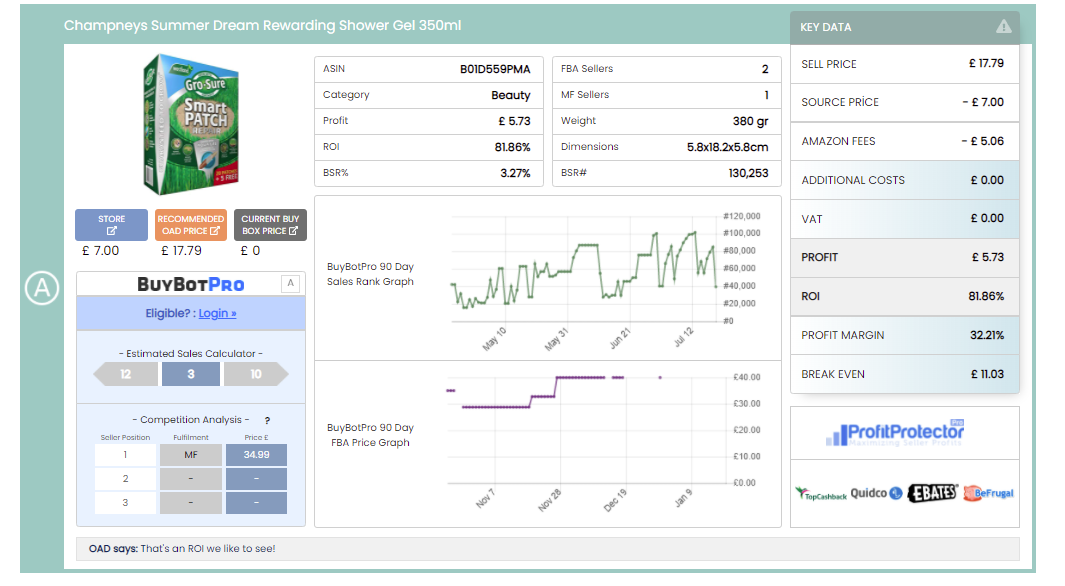 Online Arbitrage Deals sets itself aside from the competition in the way they distribute their deals.
The biggest issue people have with the Amazon online arbitrage deal-sourcing services is that they distribute their deals in the form of a large spreadsheet.
All arbitrage sellers are shown the same deals at the same time. And that means that there's a chance that, when you login in the afternoon, dozens of other sellers with access to the same spreadsheet have cleared the shelves – buying all the stock before you got a chance to jump in.
Online Arbitrage Deals handles this issue via their Deal Flow system. It's a unique feature that gradually shows different deals to different users throughout the day. That way, there is a lower chance of someone jumping onto an opportunity before you.
However, because new deals pop up every hour or so, those who do Amazon retail arbitrage full-time still have the best chance of growing their business.
Deal Flow is not the only thing that makes this service unique, though. They also have a unique approach to finding deals, ensuring that everything you get offers:
At least 30% return of investment
Returns of at least 3 pounds per unit
Fast Amazon sellers with over 80% of all deals in the top 1% of sales rank in their niche
There are no HAZMAT products
No deal includes products that can trigger IP claims
This service gives you a great foundation you can build from. Plus, this service cuts down on research time significantly from the start. It makes sure you avoid products you're not able to sell – and it can filter the deals to your specifications.
You're able to filter deals based on how good they are:
You can choose between star deals that offer the best ROI and are quick sellers, or go for Grade A, B, and C deals that are each gradually less profitable than the "star deals." And there are also replenishable deals.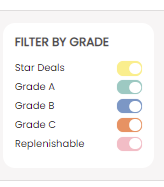 If you're in retail arbitrage, you can filter deals by store – or even decide on a minimum ROI and profit margins.
The more filters you use, the fewer products you'll see. Still, it's great to have a choice – instead of just having to work with what you get.
What Products Does This Service Show You?
Online Arbitrage Deals show you a lot of information you can use to make an informed decision and determine if a product is worth investing in before you purchase inventory. The Deal Flow shows you:
A photo of the product
Source website and amazon listing
Keepa price/sales rank and the number of seller charts
Amazon fees
Net profit
ROI
Category
Number of FBA sellers
What's more, they also show you if there are any promotions or other data that might be useful to you.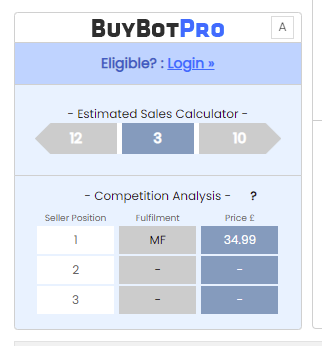 Recently, the service introduced BuyBot Pro integration, too. Thanks to this, you can figure out whether the product is worth investing in and selling on Amazon.
What Is Our Experience With This Service?
After some time fiddling with the demo version, we decided to give this service a go. It's good to give new services like this a try, especially if you haven't tried a retail arbitrage deal-hunting service before.
After the initial signup, we were greeted with some helpful information – an 11-part course on online arbitrage. That's a huge bonus for any seller; it can teach you some "tricks" you might've not known.
Here's what the course covers:
We were delighted with the service, too.
We've received deals for a wide range of categories during the first week. There were deals on beauty products, personal care, toys – and even video games. We compared these offers with those on Tactical Arbitrage, and none were there – which is a plus for Online Arbitrage Deals.
While the Deal Flow system is excellent for stopping people from copying deals from a shared spreadsheet, competition is still a problem. We found that some deals we bought had their ROIs significantly lowered by the time they were in our inventory. We can't be sure if other members jumped on the opportunity and started a race to the bottom for low returns and quick sales.
Thankfully, that wasn't an issue with all the deals.
We managed to snag a few deals over the month with high turnover. Granted, there were some gaps when it comes to stores – but that's because we didn't search for deals outside of Amazon.
There were a few products that had unfavourable shipping costs and a few that were fragile, but there were enough opportunities to keep us happy.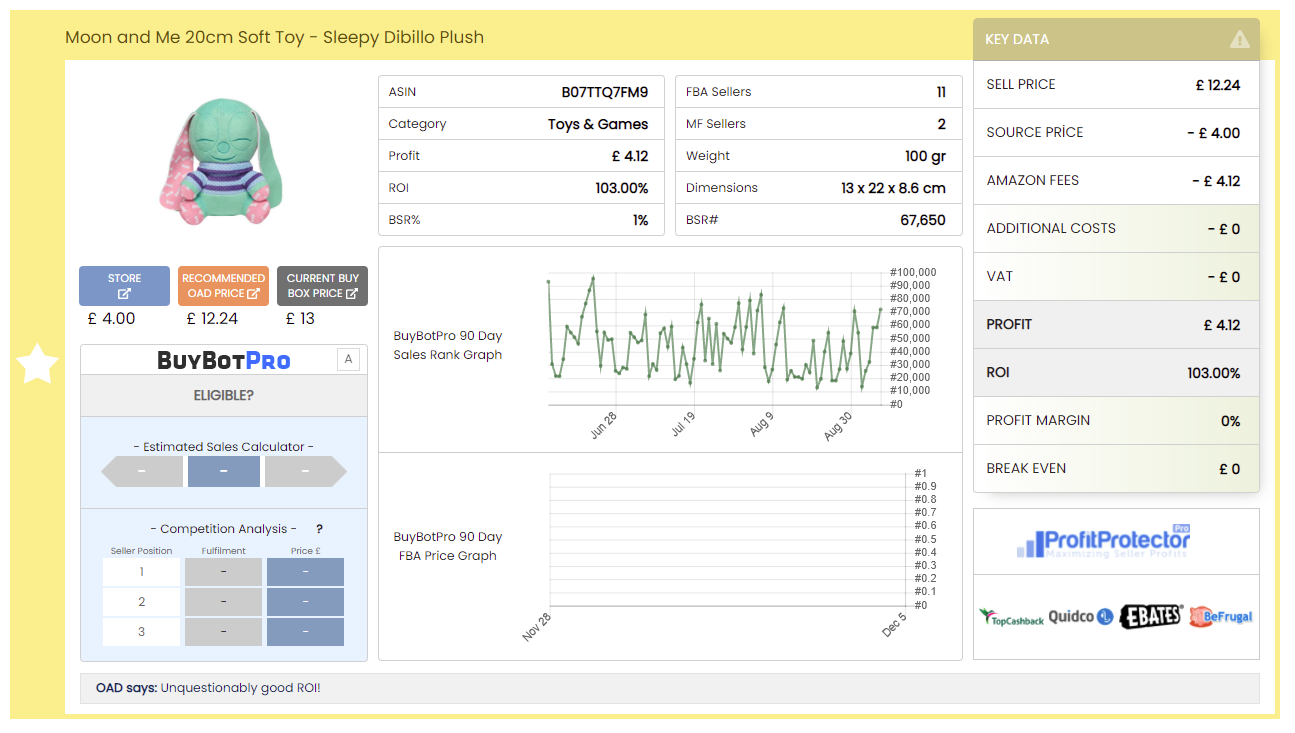 And while we understand that not everyone has the time to scour online marketplaces for good deals, we wouldn't completely rely on this service. We very much prefer to have control over product research.
Still, Online Arbitrage Deals is a great place for new sellers. You'll get the gist of how to look for profitable opportunities.
If you're planning on signing up for a deal-hunting service, we recommend you give this one a try. It's much a better alternative to shared spreadsheets.
How Much Does Online Arbitrage Deals Cost?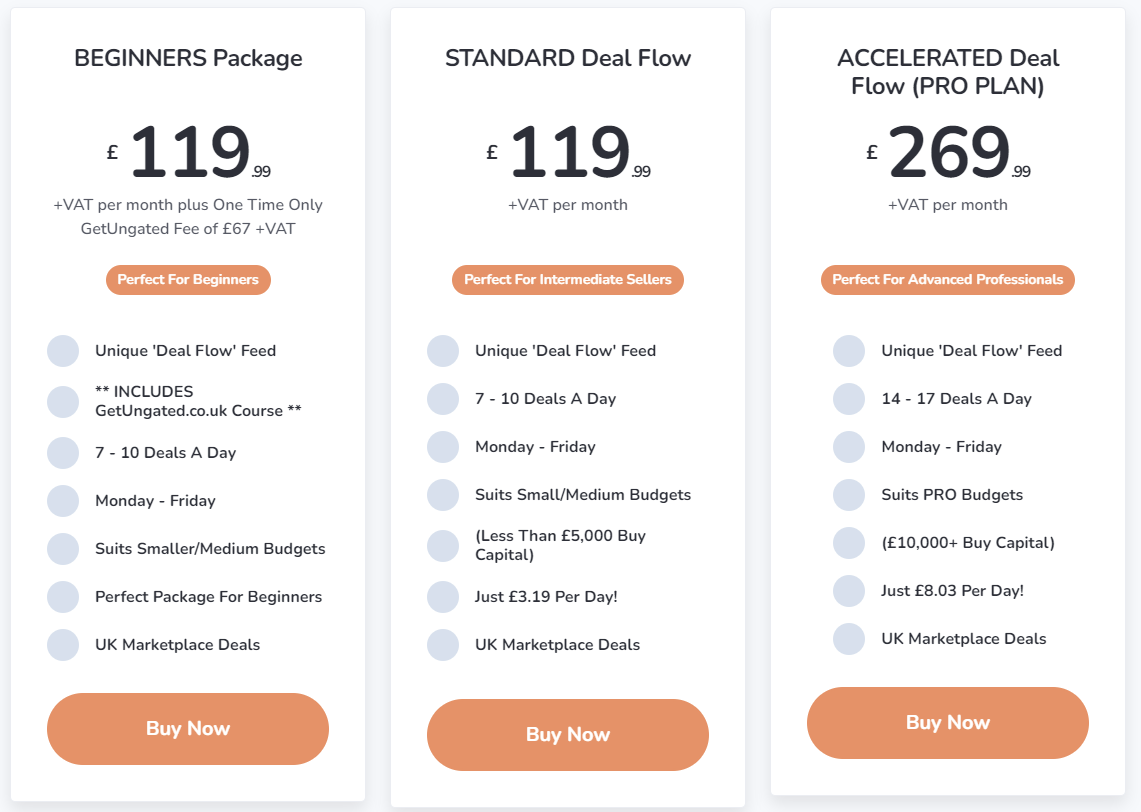 Online Arbitrage Deals offers three plans:
Beginners Package
Standard Deal Flow
Accelerated Deal Flow (Pro Plan)
Each package is tailored for a different type of Amazon seller.
Beginner and Standard packages are pretty much the same. Both come with 7 to 10 deals a day – Monday to Friday. Where these packages differ is the type of deals you get:
With the Standard package, you can expect deals that are more suited for those that have a bit more to spend on their initial investment than a beginner. So, if you're new to online arbitrage, getting the Beginner package is a better choice.
If you're a serious player, you should go for the Pro plan. It comes with twice as many deals as the previous two plans – and they're more suited for those with substantial capital.
Would We Recommend This Service?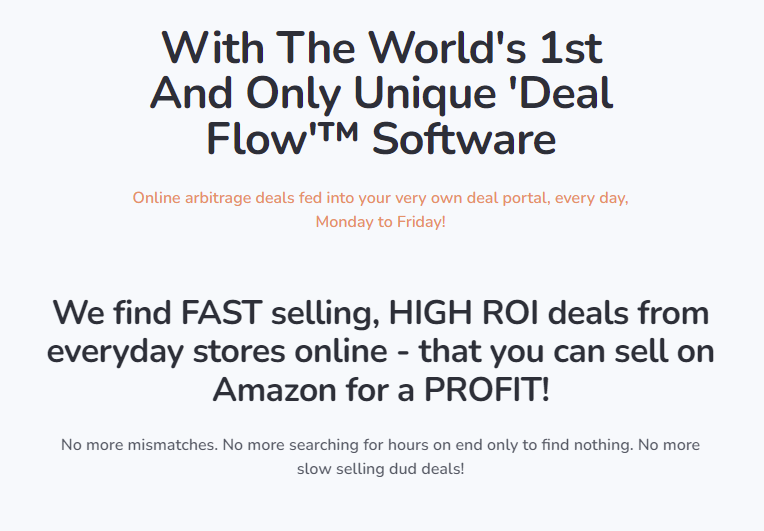 Online Arbitrage Deals is, without a doubt, a great step up from shared spreadsheets. The Deal Flow feature is well designed and encourages you to adopt good sourcing practices – including buying from a wide variety of websites and selling products from an assortment of categories.
Unfortunately, because other people get the same deals as you, some deals just end up flooded.
With that said, we generally value this service more for product sourcing inspiration than for finding products worth investing in, anyway.